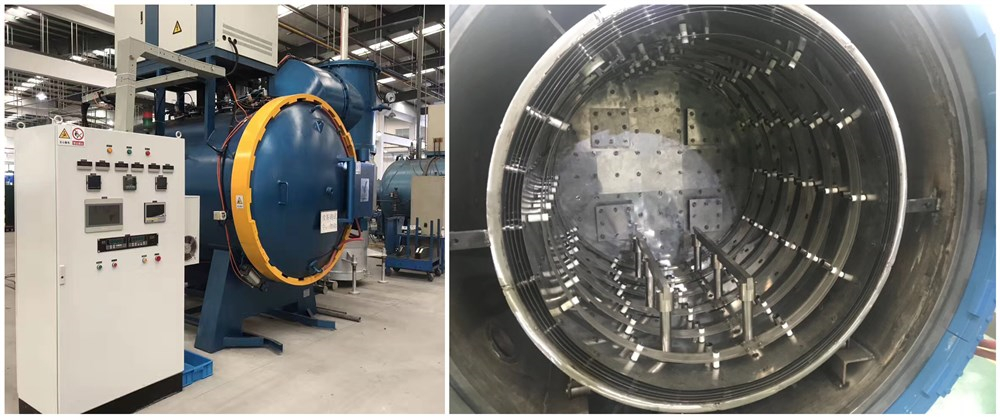 HENAN SYNTHE CORPORATION focus on manufacturing vacuum furnaces, and replacement parts for a variety of laboratory and industrial applications. With our vast manufacturing experience in high-temperature heating and process technology, we can meet the special demand made by our customers.Our .primary different is our ability to provide highly-customized specifications. When others cannot meet your requirements,TRY US.
Features
Furnace Body
Structure of Double-Deck Cylinder, with material Carbon Steel.
Equipped with water cooling system, ensure outer shell safety to touch.
Heating Chamber
You can select Nickel-Chromium heaters or Molybdenum heaters in accordance with the annealing temperature necessary for work pieces. The max temperature of Ni-Cr heaters is 950oC, 1300oC for Mo heaters.
950℃ by Nickel-Chromium Heating element.
1300℃ by Molybdenum Heating element.
Vacuum System
With vacuum level is 10-3 Pa level demanding. Operate with Mechanical Pump,Roots Pump & Diffusion Pump, Three-level vacuum system
Under no-load/dry degassing, it takes no more than 50 minutes to reach demand vacuum.
Control System
Easy Operation, Can be Operated by Single Person;
The whole Operation can be Recorded automatically;
Technical Data
Model

Size

(mm)

Installed capacity

(kg)

Heating power

(kw)

Temperature

uniformity

(±℃)

Pressure

rise rate

(Pa/h)

VTA-335

300×300×500

100

60/80

5

0.5

VTA-446

400×400×600

200

80/100

VTA-557

500×500×700

300

100/120

VTA-669

600×600×900

500

120/150

VTA-8812

800×800×1200

1000

200/240
※Other dimensions are available
Henan Synthe has the ability to offer the design and produce according to your specific demand, please contact us if you are looking for customized heat treatment solutions for your company.