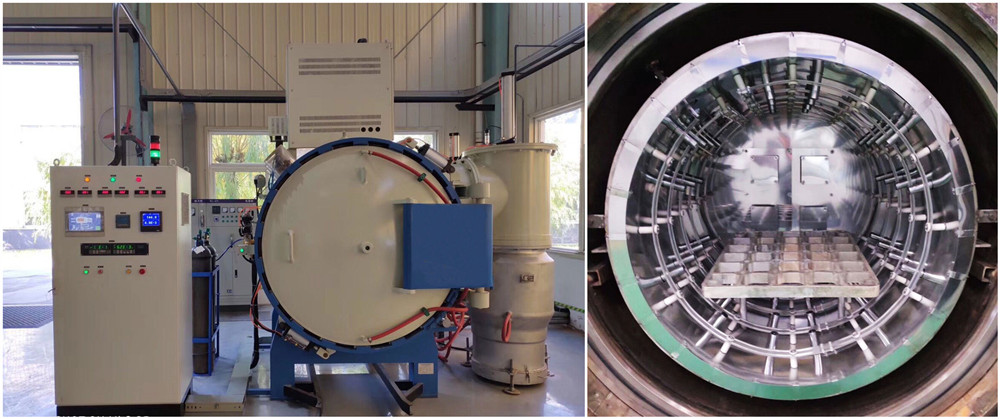 Product Description
High Temperature Vacuum Brazing Furnace is a high vacuum, high cleanliness, and high-temperature uniformity, the most critical aspect as filler selection mancraft and process parameters. For the heat treatment of some tubular, thin and long, thin-wall parts, it is recommended adopting the vertical structure with top or bottom charge, thus the deformation problem can be solved effectively. Horizontal and vertical structure are provided, and meanwhile, various non-standard equipment can be customized.
Features
Furnace Body
Structure of Double-Deck Cylinder, with material Carbon Steel.
Equipped with water cooling system, ensure outer shell safety to touch.
Heating Chamber
1300℃ by Graphite heating element for cooper base brazing.
1300℃ by Molybdenum heating element for nickel base brazing.
Consider to nickel base brazing needed, high vacuum demanding, like 10-3 Pa
level.
The type equipped with molybdenum for heating element, and match with metal reflecting screen to ensure the chamber inside clean enough.
Material for Heat Treatment
Mainly applicable to vacuum brazing of stainless steel, titanium alloys, high temperature alloys, hard alloys and nonferrous metals,etc.
Vacuum System
With vacuum level is 10-1 Pa and 10-3 pa level. Operate with Roots Pump & Mechanical Pump.
Under no-load/ dry degassing, it takes no more than 30 minutes to reach demand vacuum.
The leakage rate of chamber is no more than 0.5 Pa/ h.
Control System
Easy Operation, Can be Operated by Single Person;
The whole Operation can be Recorded automatically.
Technical Data
Model

Size

(mm)

Installed Capacity

(Kg)

Heating Power

(Kw)

Temperature

Uniformity

(±℃)

Pressure Rise

Rate

(Pa/h)

Gas

Pressure

(Bar)

VTO-335

300×300×500

100

40

5

0.5

2

VTO-446

400×400×600

200

60

VTO-557

500×500×700

300

80

VTO-669

600×600×900

500

100

VTO-8812

800×800×1200

1000

160
※Other dimensions are available
Henan Synthe has the ability to offer the design and produce according to your specific demand, please contact us if you are looking for customized heat treatment solutions for your company.